Standard Plastisol Ink Printing –

Learn More
Cost effective and durable, our high quality plastisol inks will print bold and crisp.  The ink sits on top of the fabric, allowing the colors to be bright and vibrant through many washes.  These inks can be easily matched to any Pantone PMS number and allow for a variety of additives to create softer prints or specialty finishes. (see Speciality Inks & Additives)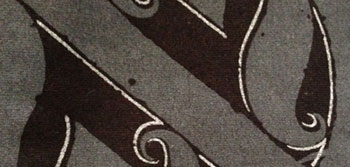 Soft-hand Plastisol Printing
The best of both worlds, ease of printing and low cost of plastisol, while still achieving a soft vintage feel print much like water-based inks.  However the more softener you add the more transparent the print will be, which make the prints less opaque on dark colored garments.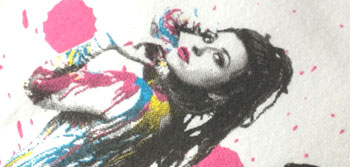 Water-based Printing –

Learn More
Eco friendly and soft to the touch. Great for fashion fit shirts and a vintage look. Works best on white and light colored shirts. However custom colors must be ordered and costs of printing is slightly more.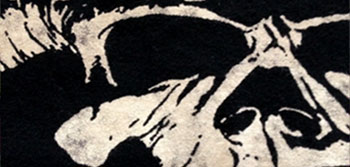 Discharge Printing –

Learn More
Discharge inks are used on dark colored  100% cotton shirts. Discharge ink removes the dye from the fabric like where it is printed  leaving the natural color which appears as a cream off-white color much like bleach. Can be combined with white and color dyes to achieve different colors.  Discharge results will vary slightly based on brand and style of garment and may even vary within the same lot.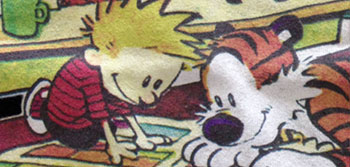 Process (CMYK) and Simulated Process Printing
Full color process, simulated process and index printing are all techniques used to create prints that have many of colors in them using only a few colors. By blending specific inks together, we can create photo realistic images and detailed illustrations that simulate hundreds of colors and shades. Exact color matching is more difficult for this type of printing, but when trying to recreate a photo realistic image and gradients this is a great option.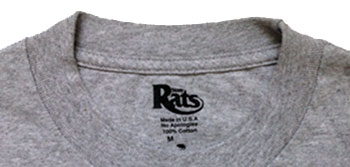 Inside Tag Printing –

Learn More
Inside label printing adds a nice personal finishing touch to your t-shirts.  You can provide artwork with each of the sizes you are printing, washing instructions, motto, website, country of origin, or whatever you'd like to add.  We advise going with a brand of apparel that has tear-away tags like Next Level, Alstyle, and Anvil so the original tag can be easily removed.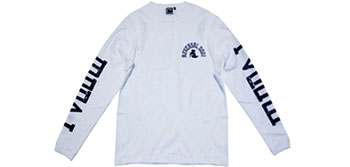 Sleeve Printing
Add text or visual designs down the sides of your shirts. Available for both short and long sleeve shirts!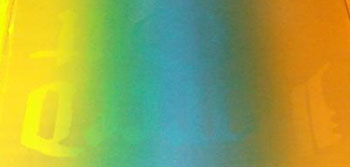 Blend Printing (Split Fountain)
Blend Printing is done by mixing two or more plastisol inks so that it creates a fading color design on one screen.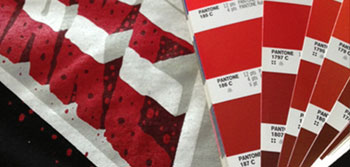 PMS Pantone Matching System
Need a specific color ink?  We can match any Pantone color you need for plastisol, water-based, and discharge printing.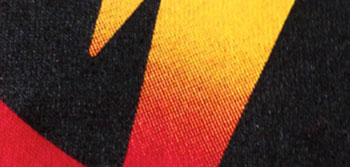 Halftones
For detailed images we can print halftones. A series of fine dots which can acheive the look of shading and gradients. We also use  RIP (Raster Image Processor) software to get the most detail and finest halftones.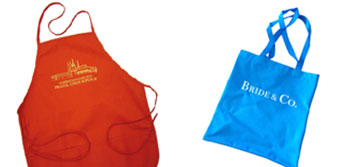 Printing on other materials
We mostly print on t-shirts however we can also print on tote bags, aprons, patches, towels, belts, bandanas, posters, record slipmats, wooden signs, pillow cases you name it, just ask us!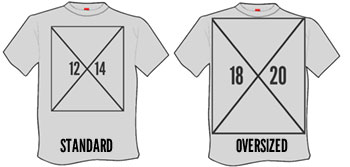 Oversized and Jumbo Printing
Our standard print size is 12″ x 14″ Need something bigger? Over sized printing allows that graphic you want printed to really stand tall and not get lost on larger shirts. With two over sized options available your design will not be overlooked.  (16″ x 19″ and 18″ x 21″)
Also read about all the different printing 

placements

 

available.